As a photographer for almost 2 decades, it is easy for me to forget that while I have been to (and photographed) close to 400 weddings, this is most likely a new experience for you! While you may have an idea of what to expect, I thought it would be nice to break down exactly how I approach each part of the day AND what you can do to help make the day run smoother and allow me to get the best photos possible. This will be a 4 part series and starts with the beginning of the day, the getting ready.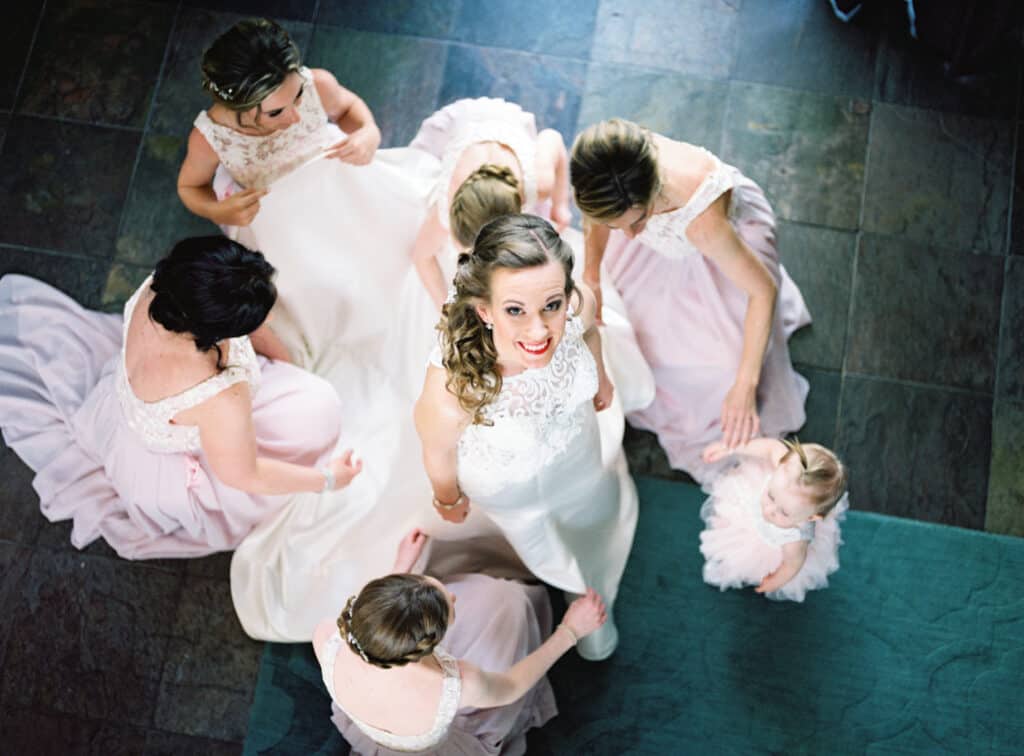 Getting ready photos with the bride and her bridesmaids are amongst my favorites of the day. Everyone is excited and emotions are running high. I usually arrive 30-60 minutes before hair and makeup is scheduled to be finished for the bride, since the finishing touches of the hair and makeup are really the images you want! As well, I usually allot about 15-20 minutes for getting ready details like the jewelry, invitations, etc. If we have a good spot and time, I will try and do a dress image but, in the spirit of total honesty, these are rarely my favorite images. The dress just looks SO much better on you. Generally, it always looks just kind of weird hanging there. If you do really want a dress image, please make sure you have a nice hanger….beautiful, expensive dresses on plastic hangers just don't look right.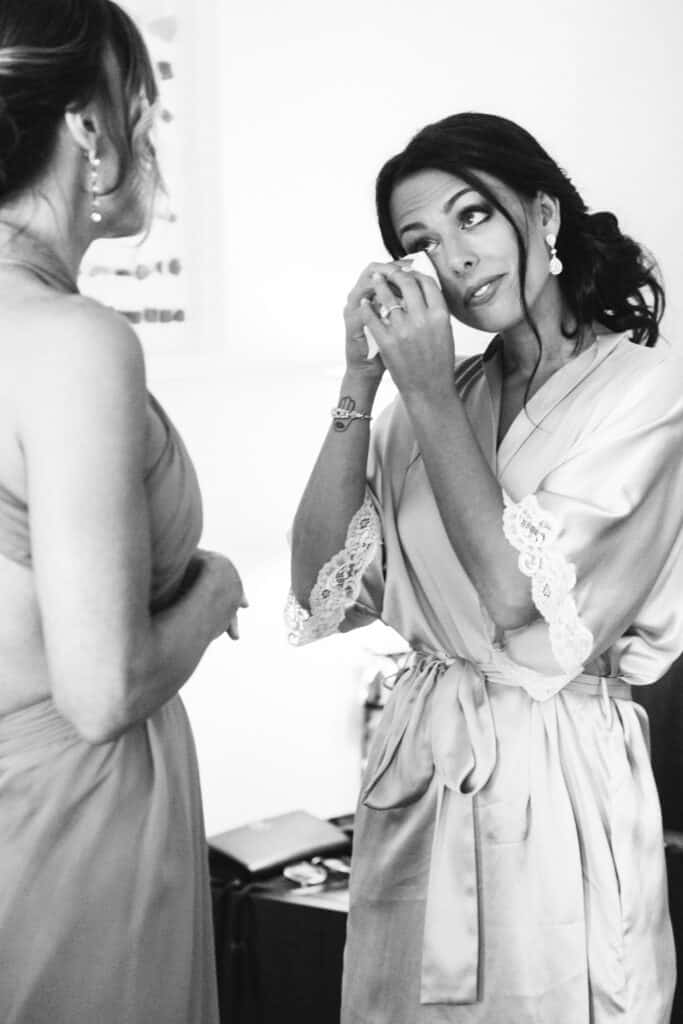 After hair and makeup, it will be time to get you in your dress and shoes! Think about who you want helping you into your gown and let me know; I will make sure they are dressed before we get you ready. This will be one of the few times during the day that I will help direct you where to stand and what to do, give you prompts and some posing direction. Generally, what I am looking for is gentle window light and a clutter-free background, and natural, sincere interaction. If there is time (and a good location), I usually try to get a few portraits of you by the window too.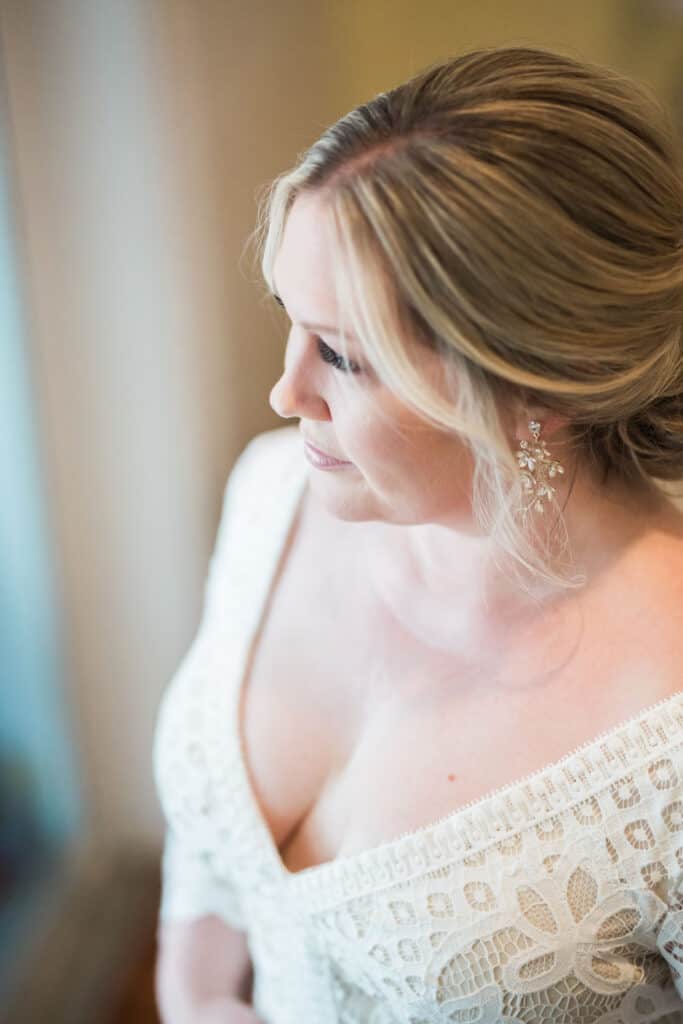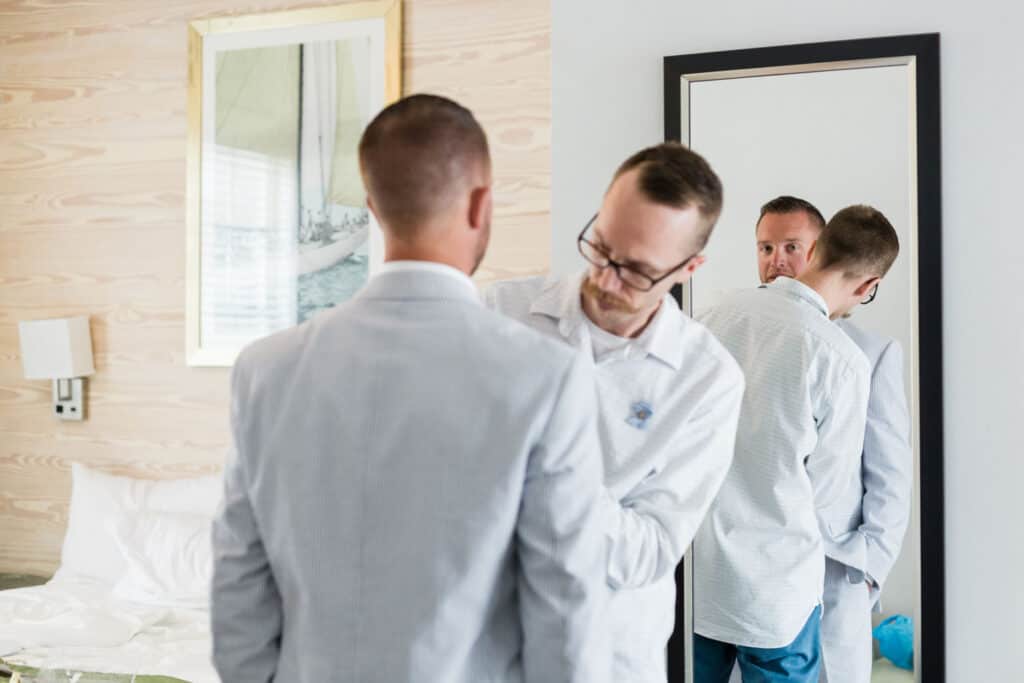 I always ask beforehand if the groom wants getting ready images since some grooms do not care for these. If they do, then I usually send my second shooter to photograph with the groom and groomsmen. It is best if the guys are dressed but don't have on their ties, coats or shoes. We will photograph the guys getting these finishing touches on and, if time, a few of them hanging out. If available, this is when we get the boutonnieres on as well. My photographer usually only spends 30 minutes or so on getting ready with the guys as this is usually plenty of time.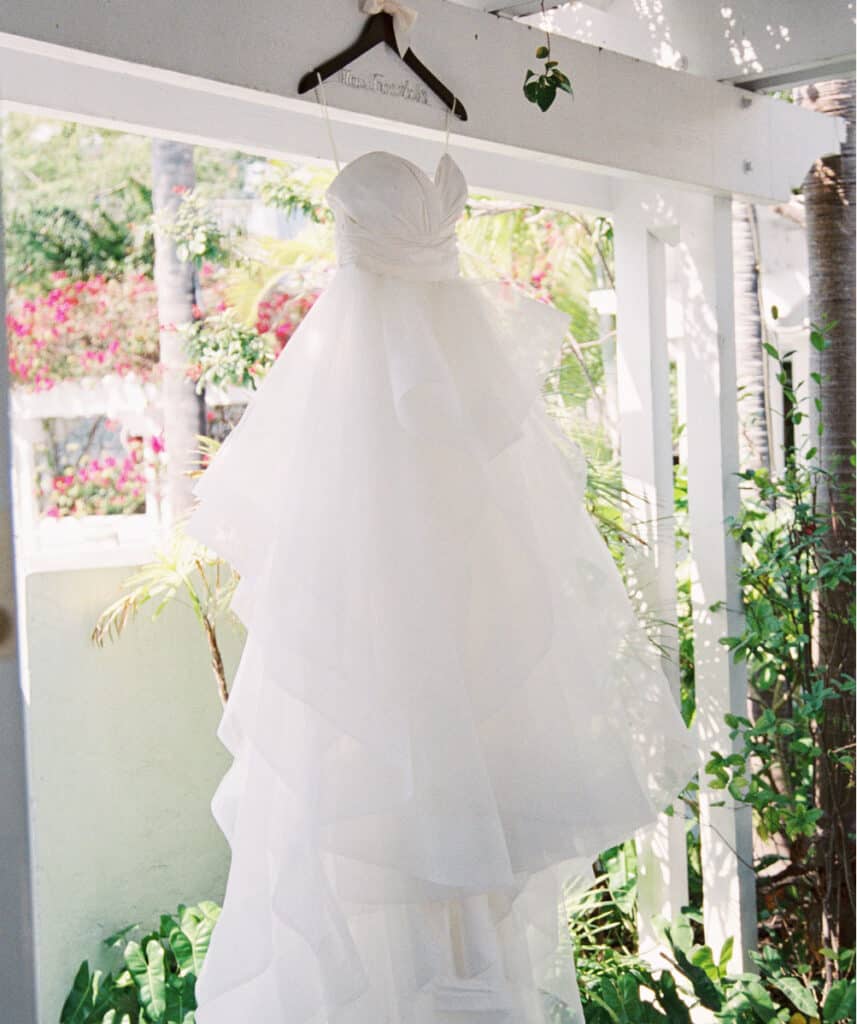 Things you can have prepared:
1 – Have details out and ready for us to photograph. Typical details for girls – jewelry, shoes, invitations, flowers, veil, dress, and any other piece that is sentimental or important. Typical details for guys – shoes, tie, boutonnieres, etc. If it is possible to have all 3 rings in one place before the wedding, that is great but a lot of the time I just photograph the rings at the reception.
2 – Have the room organized and as clean as possible. The cleaner the room, the better your photos and the more options I have to photograph. I can only shoot so much around a cluttered room. Remove water bottles, empty food containers, and piles of clothes.
3 – Think about how many people you want with you getting ready and THEN pick a space. A crowded getting ready area can be difficult to get a lot of good shots in.
4 – Communicate any picture requests before the wedding. Photos like all of the bridesmaids on the bed in their robes are cute but knowing that you want this before is nice so we can make sure we allot enough time for this.
5 – If you do not have a wedding planner who is helping with this, please make sure you have someone available to put on boutonnieres!