A Private Oasis of Perfection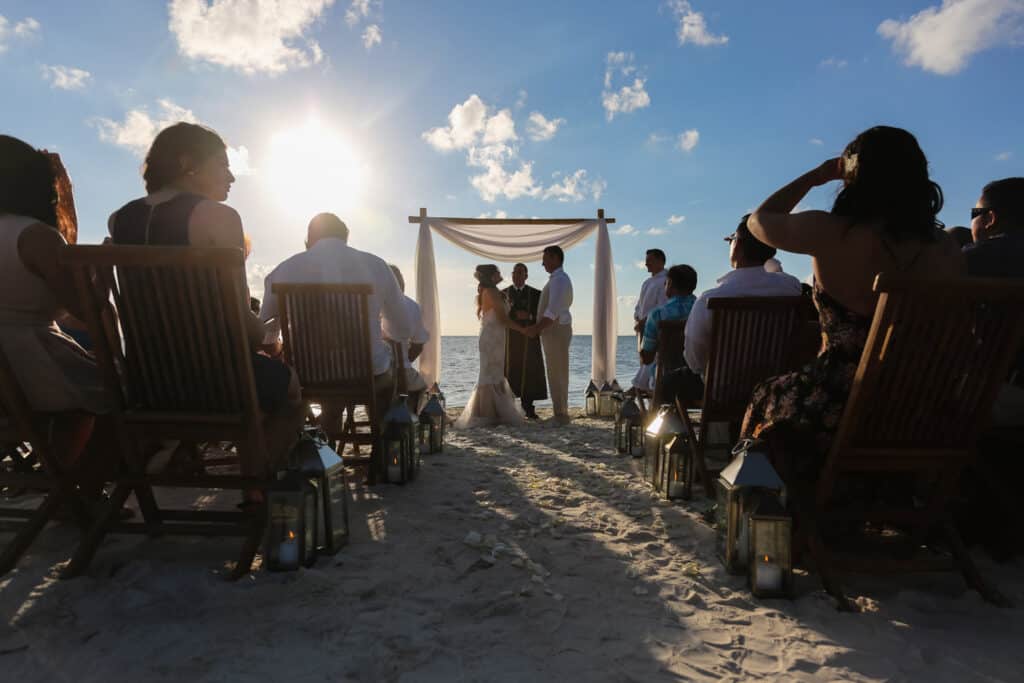 It's been awhile since I have photographed at a wedding at Little Palm Island in the Florida Keys but a wedding there isn't something you will forget anytime soon.
A wedding at Little Palm Island is the epitome of grace and elegance mixed with old school tropics. A wedding at Little Palm Island is true goals.
Little Palm is a magical, private island just off of Little Torch Key, a small key (don't blink, you'll miss it) just south of Big Pine. If it sounds exclusive, don't worry, it is. It is everything it sounds like—exclusive, expensive, and worth every penny. This is the island where the rich and famous come to relax and get away from it all… so if this sounds like your ideal playground, keep on reading.
I'll caveat this blog by saying I have not been to Little Palm Island since it was completely gutted and rebuilt after Hurricane Irma (so these images are a bit outdated). The island was virtually flatten after that disaster and, like most everything in the lower keys, took years to rebuild. But they are back and better than ever. I am more than looking forward to getting back on the island to photograph a wedding (not so subtle hint if you are reading this).
Getting to Little Palm
If you are flying commercial, you'll want to fly into Miami International Airport (MIA) or the Key West Airport (EYW). There is a private airport in Marathon, which would be the closest airport.
Miami airport is about a 3 hour drive, depending on traffic and Key West is a 45 minute – hour drive. There are Ubers and other private transportation in Key West that will happily take you to Little Torch.
You arrive at Little Palm via The Little Truman ferry, a gorgeous wooden hulled boat. There are no cars on the island, only golf carts. Prior to boarding you can relax in the private lounge on Little Palm…just to jumpstart your mindset in island mode. The quick boat ride (less than 20 minutes) is scenic and enjoyable.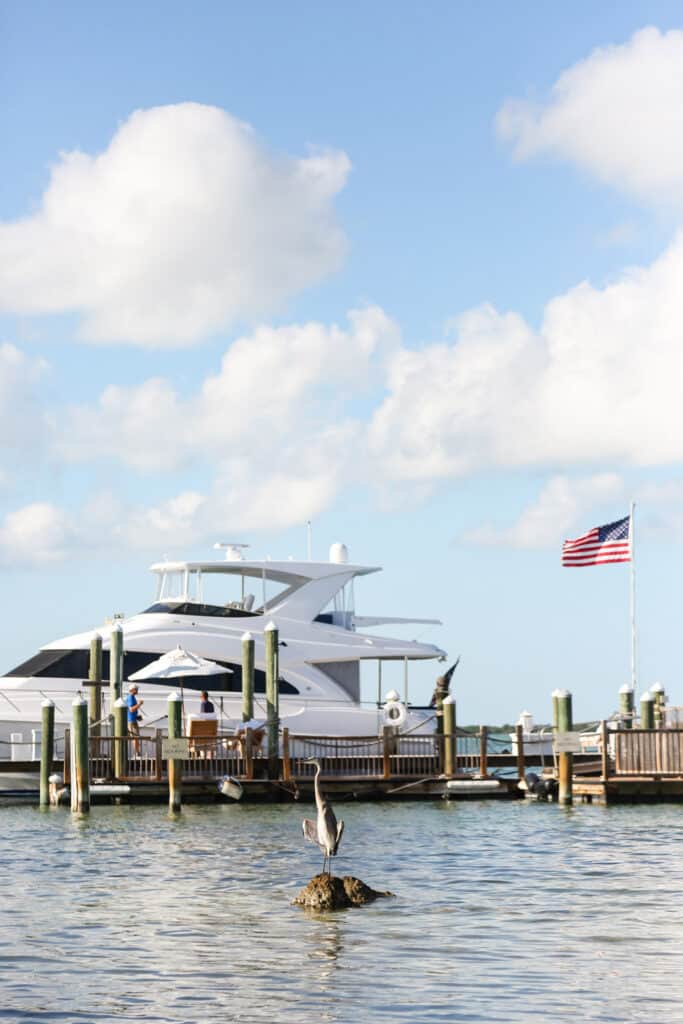 Staying at Little Palm Island
The private, meticulously decorated bungalows with ocean views, fire pits, and thatched roofs are nothing short of heaven on earth. The website describes the rooms as a sense of the Caribbean with modern British West Indies flair and I think that is so perfect that I can't even attempt to recreate such a beautiful description.
The property itself is immaculate with winding paths through gardens of palms and an inviting pool. My absolute favorite part of Little Palm are the gardens; it feels like you have stepped into a tropical secret garden that you could get lost in for forever.
Another special part of Little Palm Island, that just can't be replicated elsewhere, are the Key deer. These miniature (and endangered) deer are native to Big PIne and the Lower Keys. They often are seen swimming (yes, swimming) across the channel to Big Pine and do like to hang out in your backyard. Just make sure you don't feed the deer—they are endangered, wild animals and feeding them is frowned upon for obvious reasons.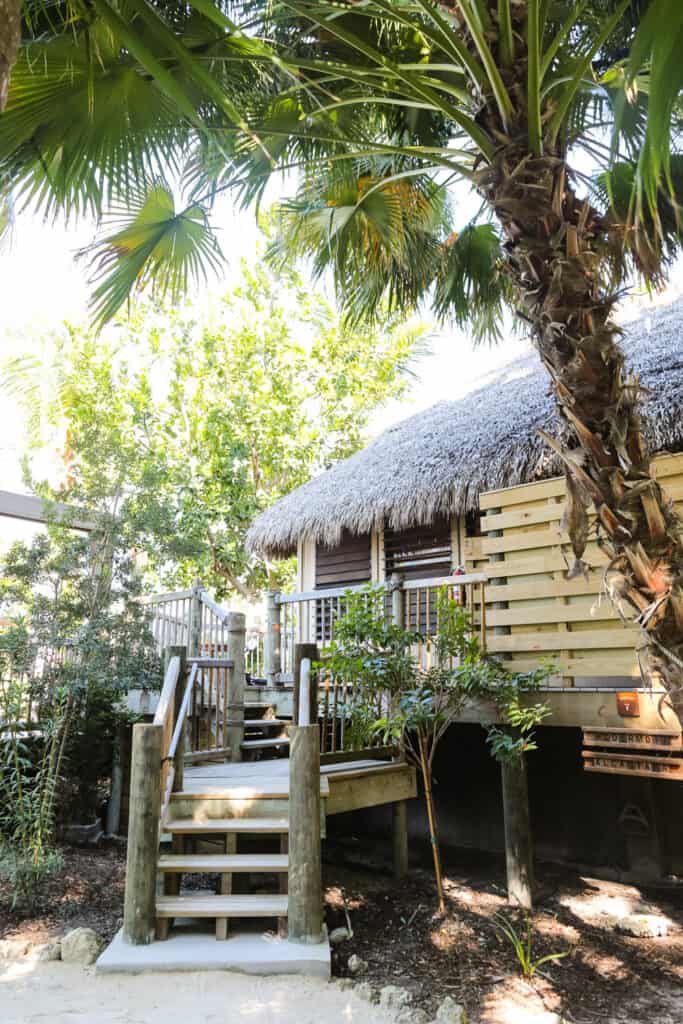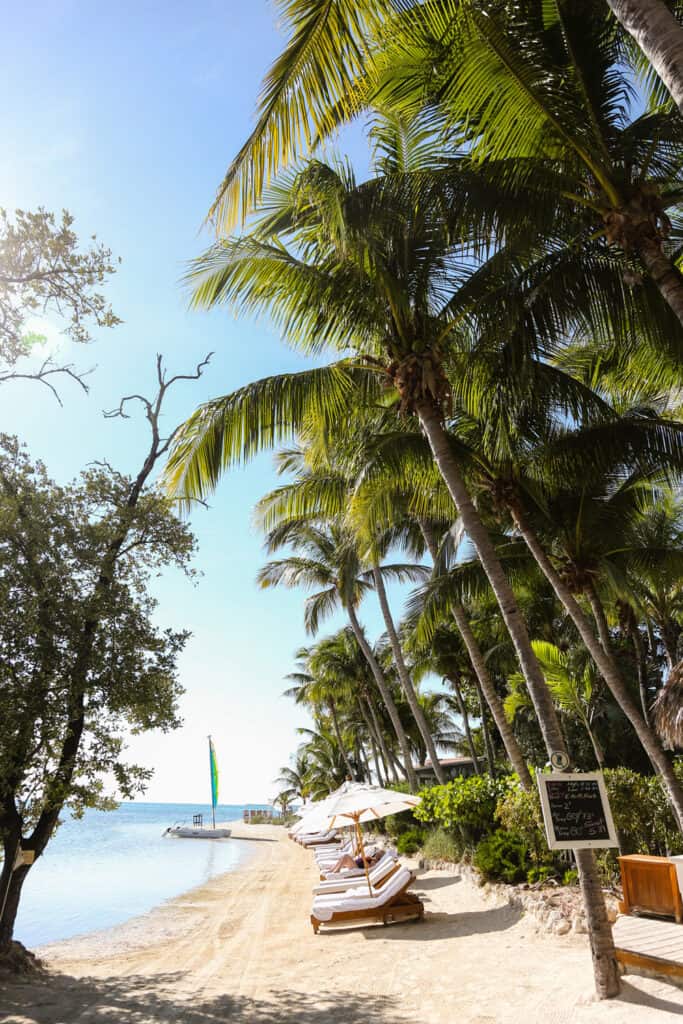 Weddings at Little Palm Island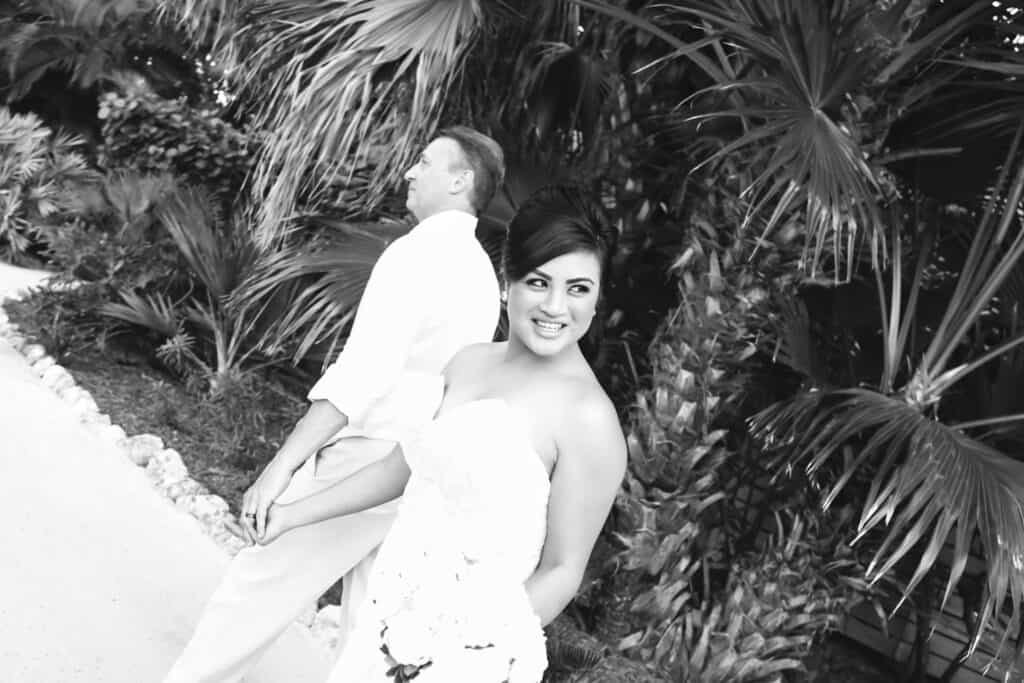 There are several options for having a wedding at Little Palm Island. You can do a buy-out of the entire island or host a smaller gathering (from 2-60 people). They do currently require the bride and groom to stay on property for at least two nights (but who wouldn't want to honeymoon at Little Palm Island).
Regardless, there is only one wedding a day on the island so you can be assured your service is personalized and focused.
Let's look at how your wedding at Little Palm Island may look.
Getting Ready For Your Wedding at Little Palm Island
Could there be a more peaceful place to get married than staring at the ocean from your open-air bungalow, while maybe even seeing some Key deer or an iguana hanging out in your private courtyard?
There are several stellar hair and makeup companies who are able to travel to Little Palm Island to help you get ready in the comfort of your own bungalow.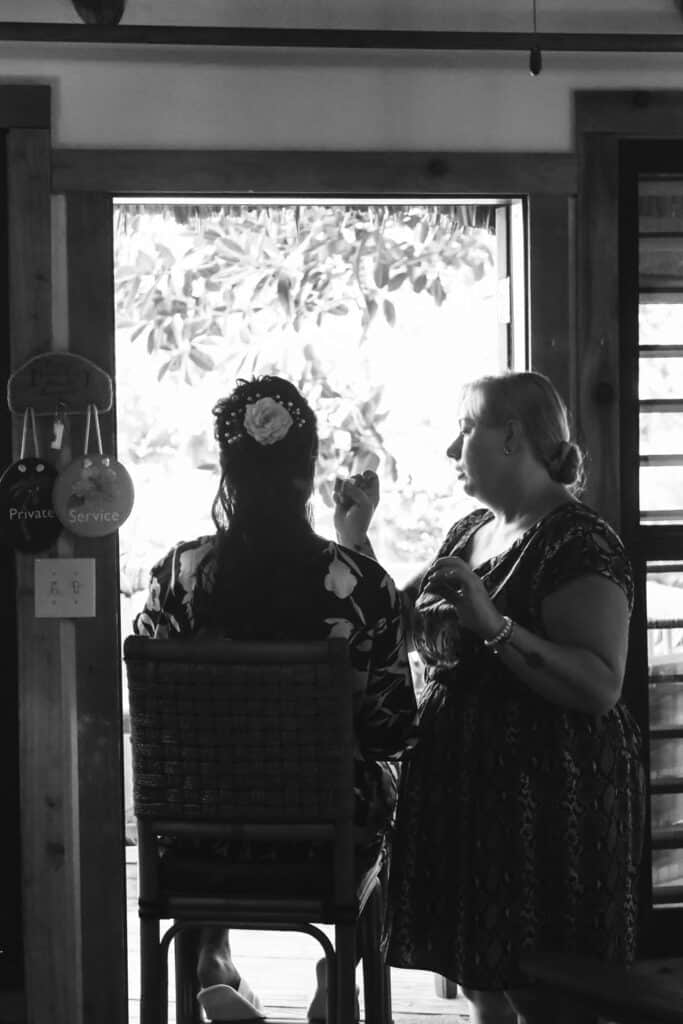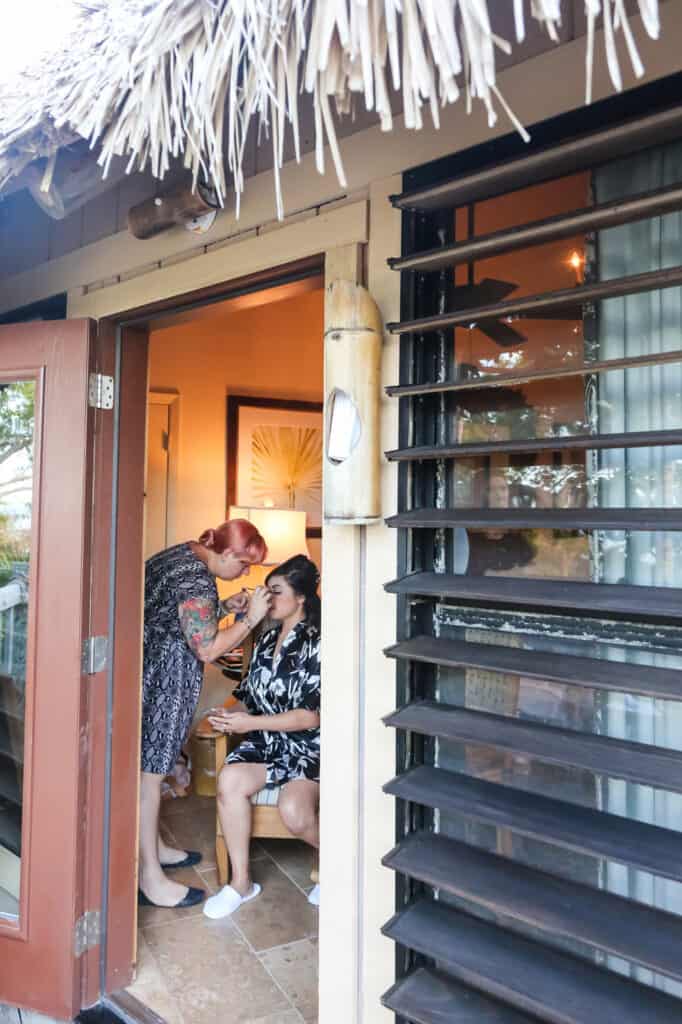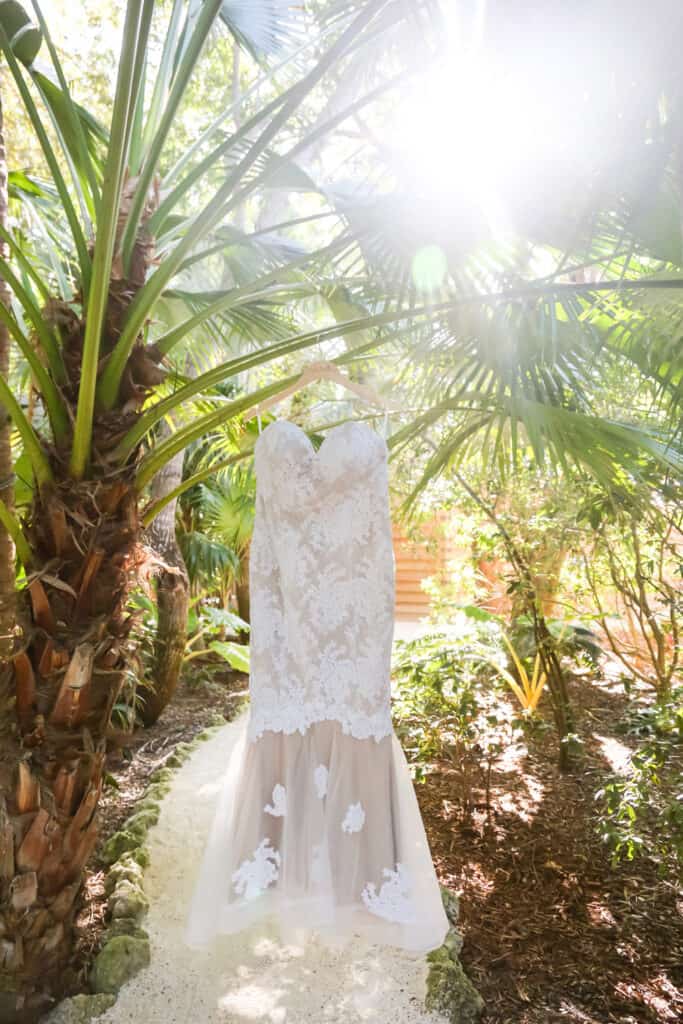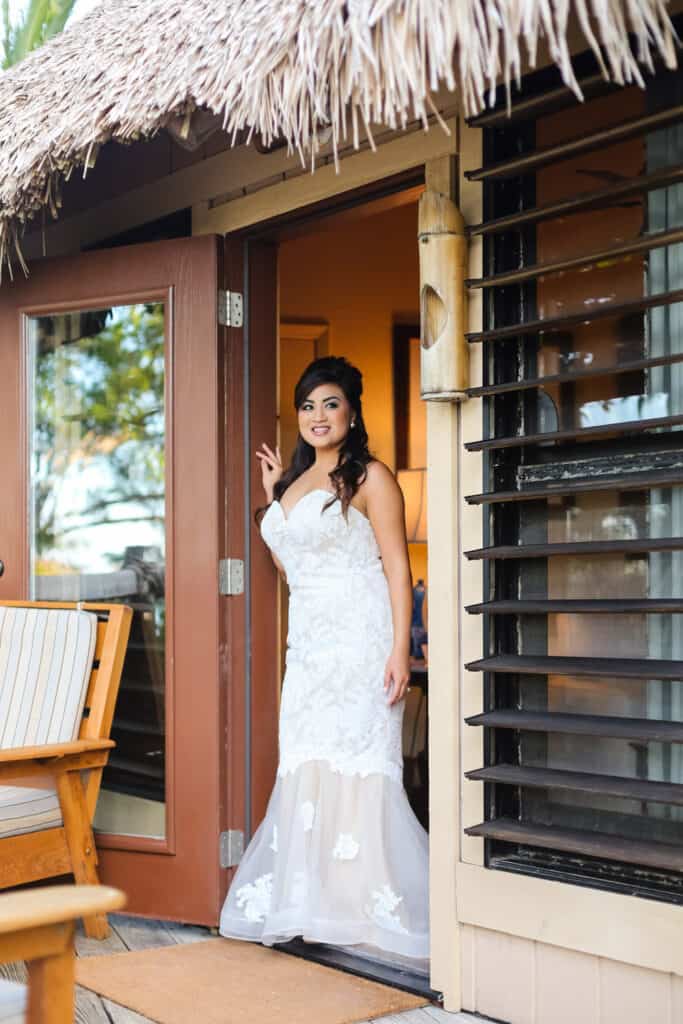 The Ceremony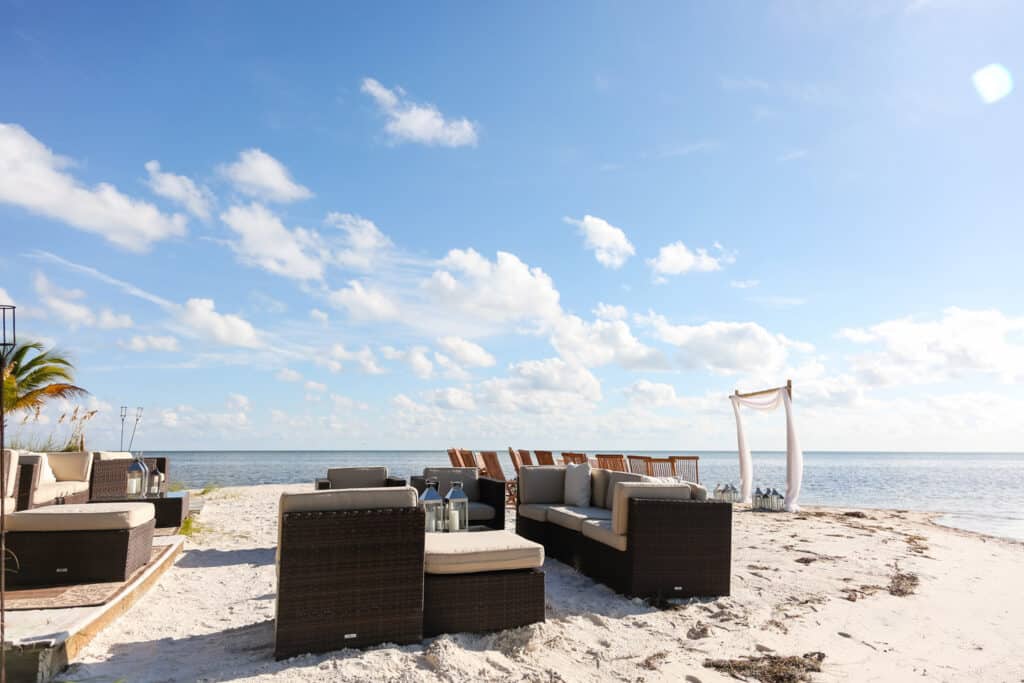 Most of the ceremonies are held on the sand-spit on the west side of the island (which is also host to magnificent sunsets). While there are several more ceremony sites on the island, this is the most common (and the only one I have shot at).
I personally love this spot as the light is usually perfect and you truly feel like you are on the edge of the earth here. It feels exactly like a wedding on a tropical island should feel like.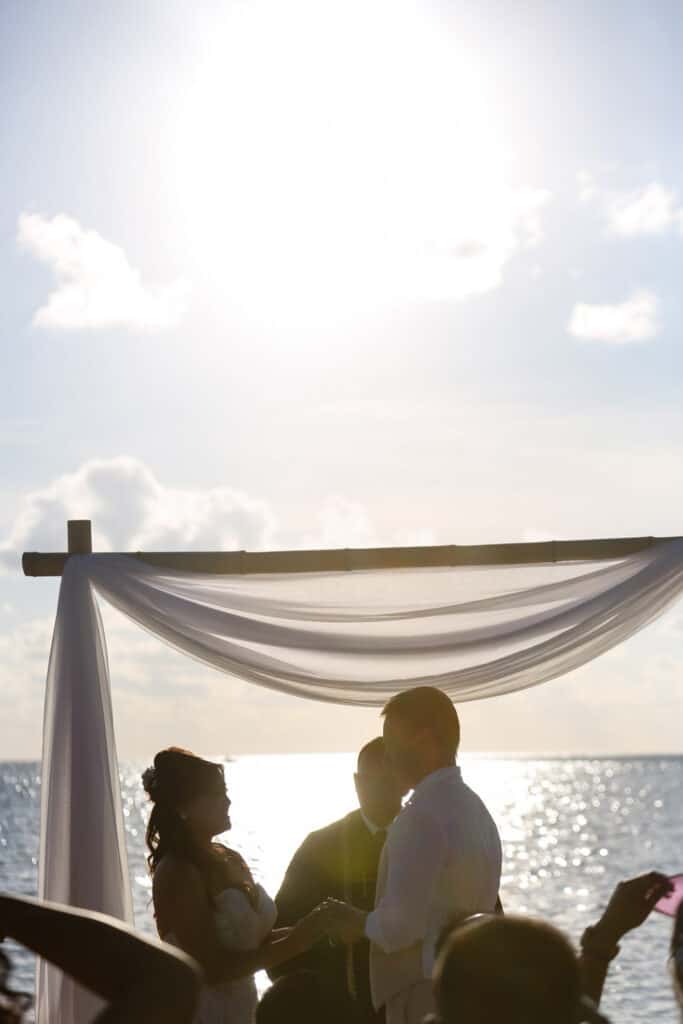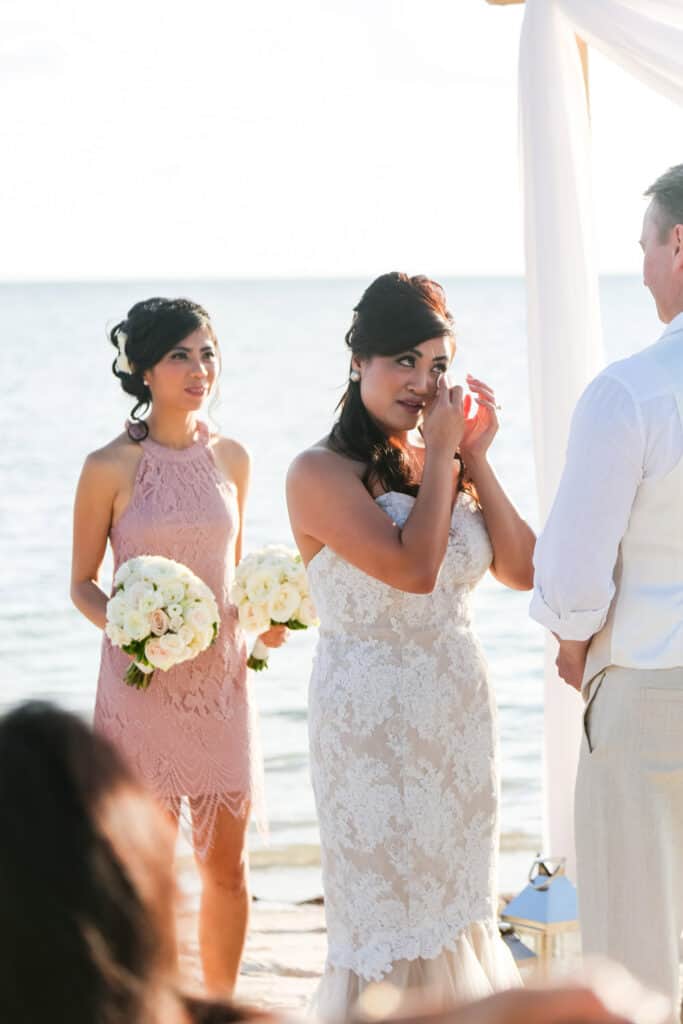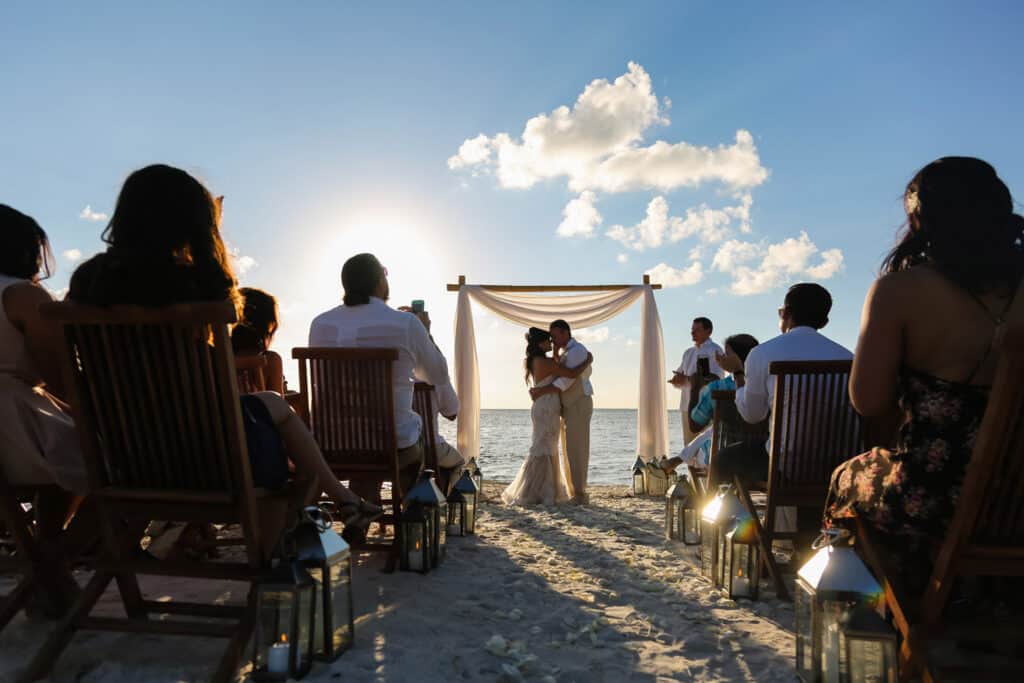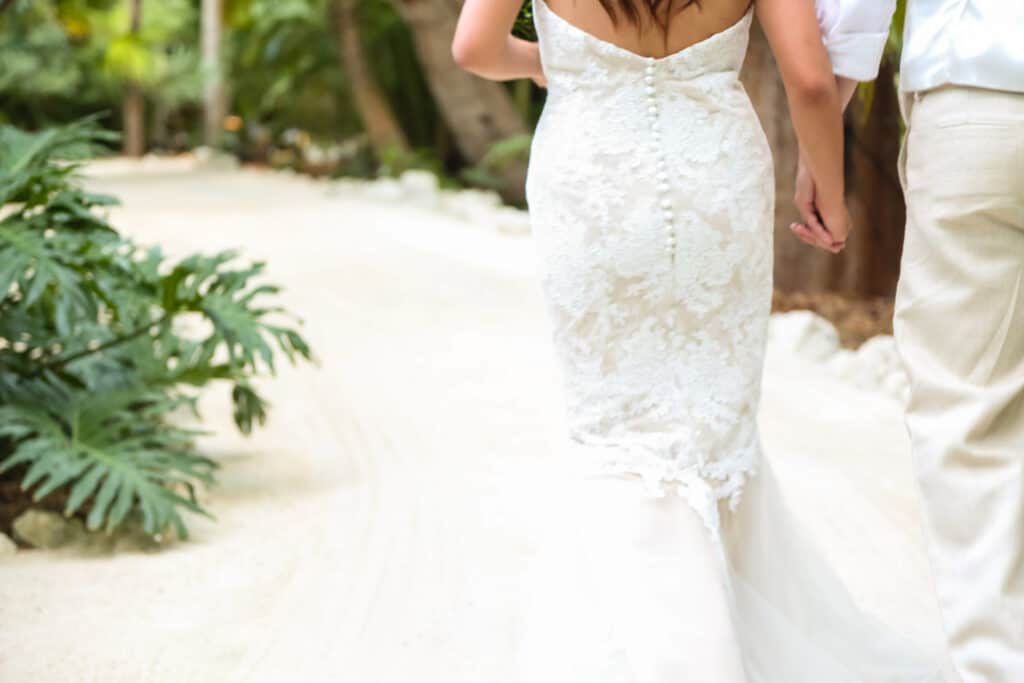 The Reception
Again, there are several spots on the island where you can host your iconic reception but my favorite is a private, al fresco dining area on the sand. Think string lights, the ocean breeze, and food so good that you may be ruined for life.
There is nothing more special than an intimate reception dinner and Little Palm has you covered.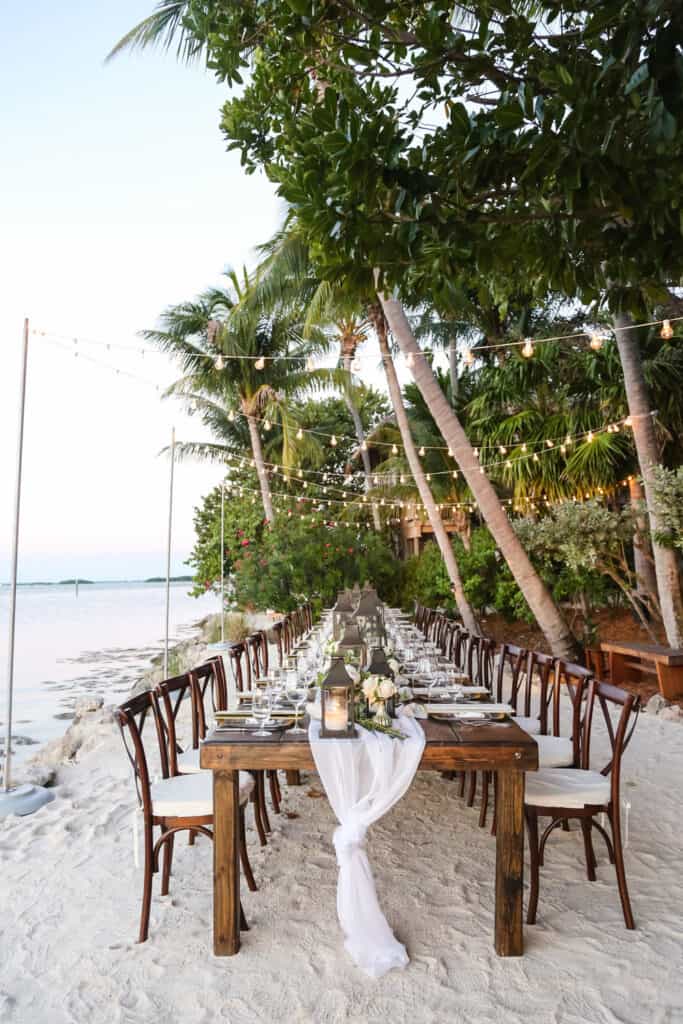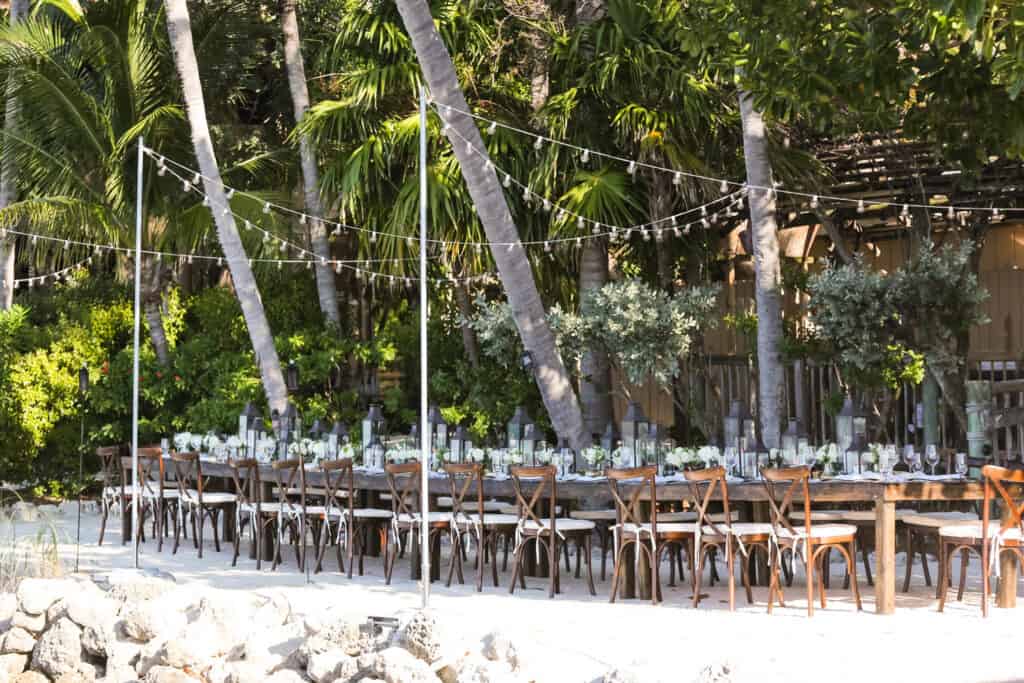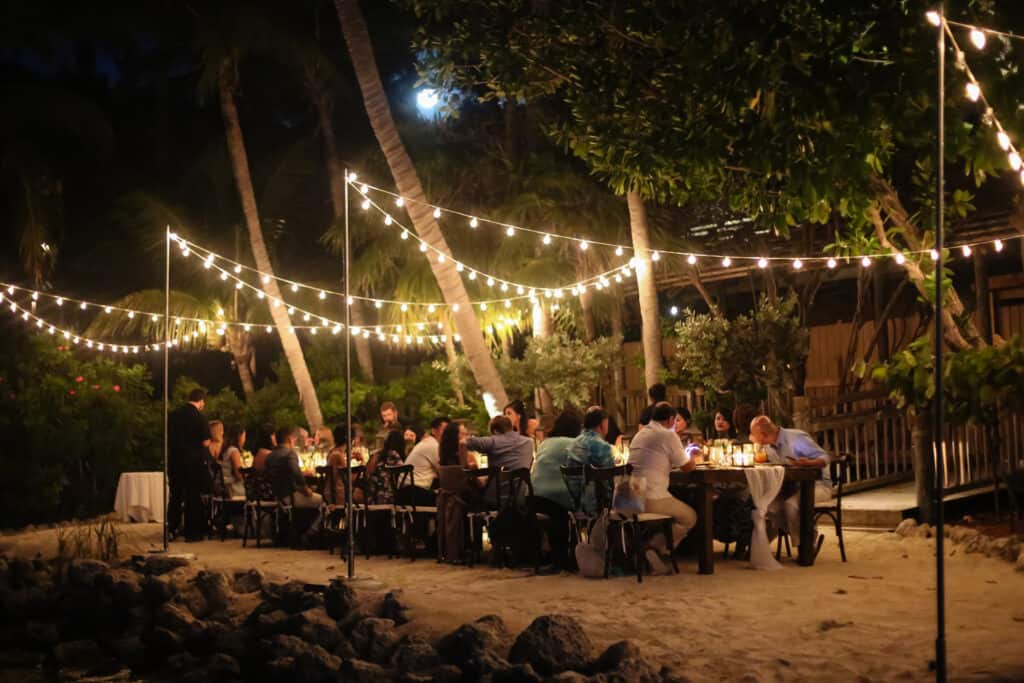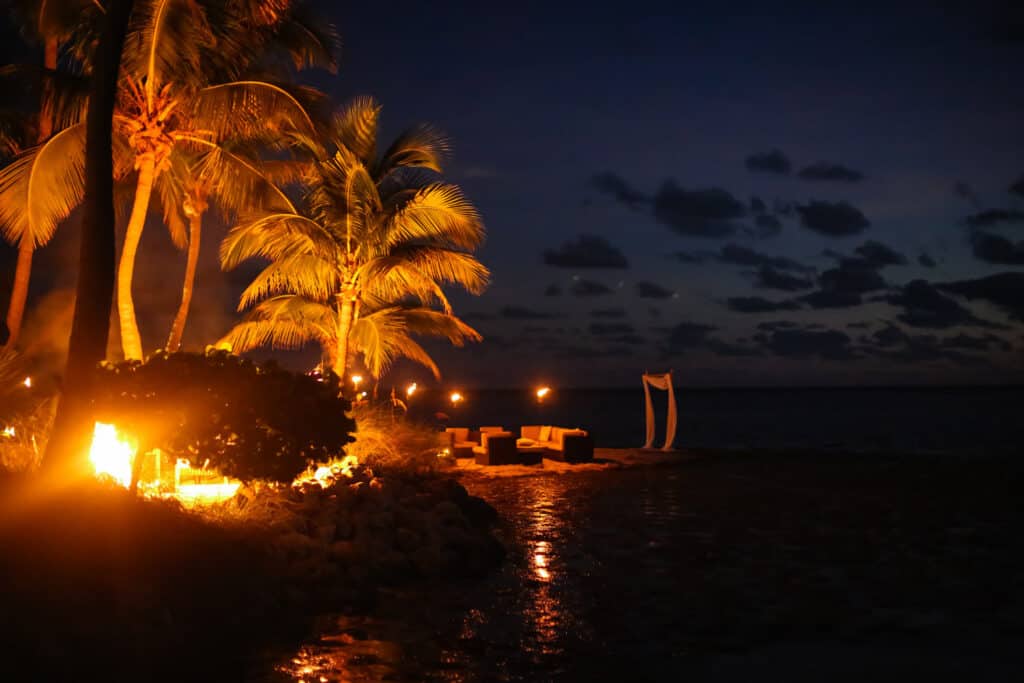 Things to Consider When Having a Wedding at Little Palm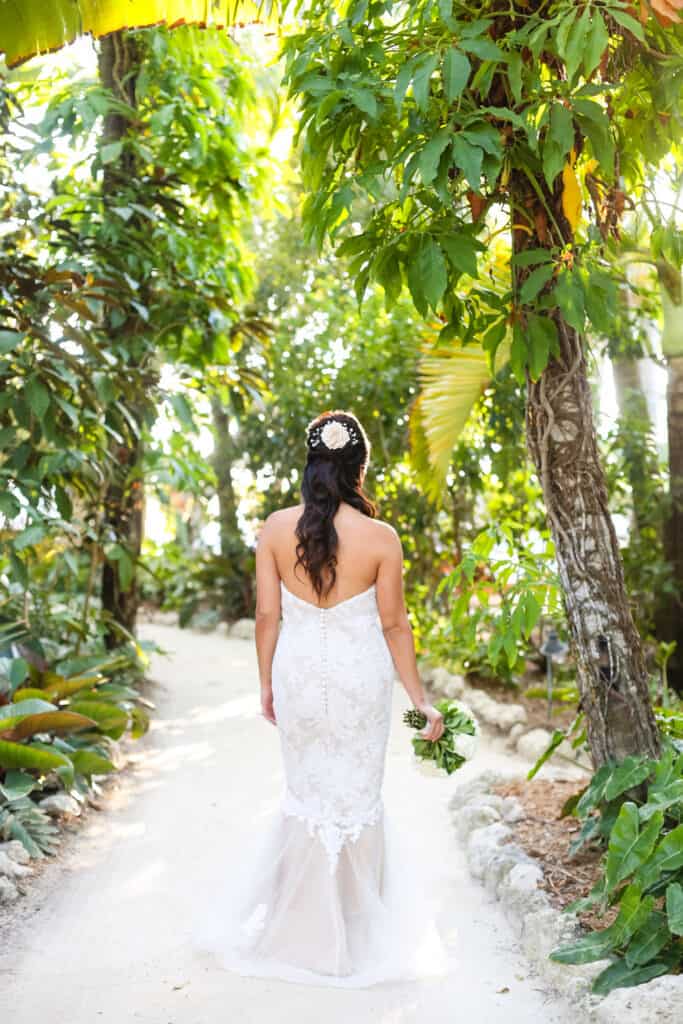 1 – It's a remote island. There will be more hurdles to jump through for you and your guests to get there.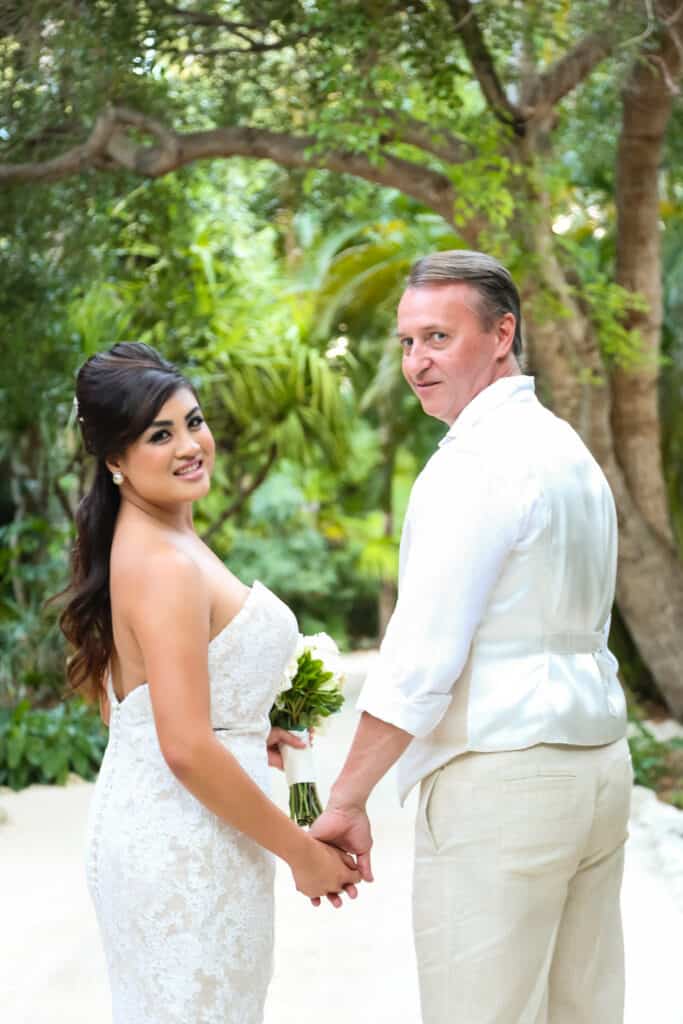 2- You will need a wedding planner to coordinate all of the details that go into a wedding there. You'll want to have a wedding planner regardless for our Florida Keys wedding but one is 100% necessary. There are just way too many logistics when hosting a wedding at a deserted island.
3 – Going home is going to be very difficult. You will never want to leave. Promise.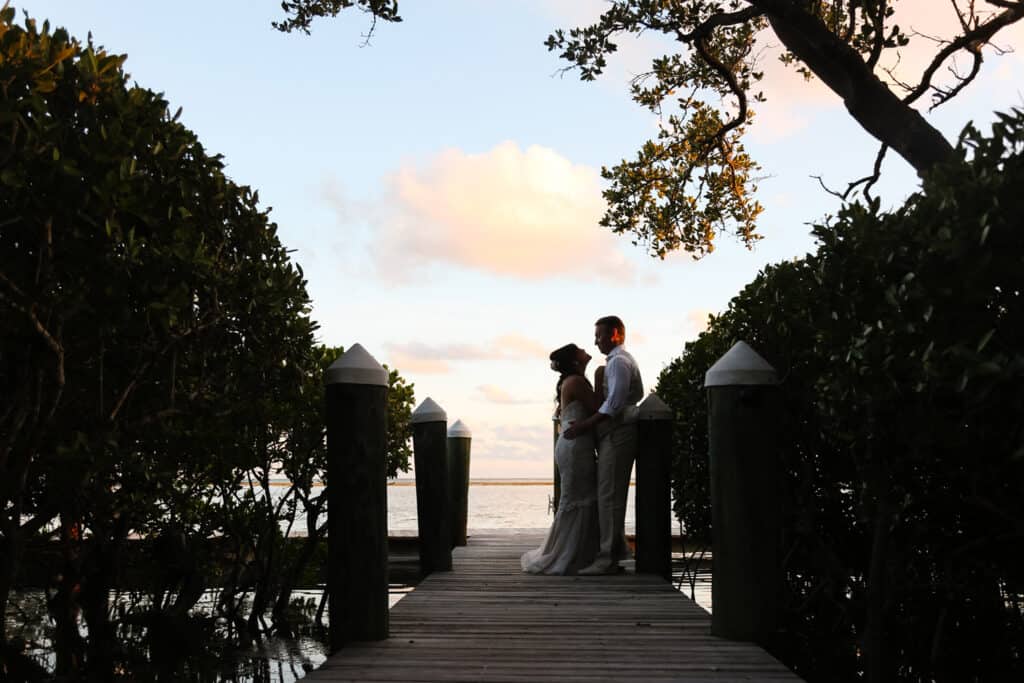 What questions do you have about hosting a wedding at Little Palm Island?
Vendor Love
Venue: Little Palm Island
Planner: SImply You
Photographer: Megan Ellis
Florals: